Howard Owen is a novelist and journalist...
Struck by either an epiphany or a midlife crisis, Howard Owen wrote his first novel, "Littlejohn," at the age of 40. The first draft took him about 100 days. At the time, Owen was sports editor of a daily newspaper. He is now business editor of The Free Lance-Star in Fredericksburg, Virginia. He has never taken a sabbatical, adhering instead to a schedule that includes about an hour a day for writing or revising. He finds that it is possible to do great things with an hour a day, every day. Owen's tenth novel, "Oregon Hill," has just been published. He is busy writing his next novel, a sequel, to be published in July of 2013.

We've just learned that Oregon Hill is one of five finalists for the Hammett Prize for literary excellence in crime writing for 2012. The award is given annually by the North American branch of the International Association of Crime Writers and is open to all fiction and non-fiction books in North America. The first winner was Elmore Leonard. The award to the winner will be presented during the New Atlantic Independent Booksellers Conference in Somerset, N.J., Sept. 30-Oct. 2.
(Howard Owen is the first interview on both the Virginia Living and Germanna Today TV shows. You may see a short commercial first.)
Howard Owen on Virginia This Morning, WTVR Richmond
Please watch this space for more book signing dates...
Newest Release...
Oregon Hill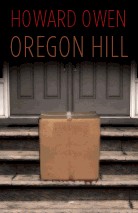 Newest Release
Willie Black has squandered a lot of things in his life - his liver, his lungs, a couple of former wives and a floundering daughter can all attest to his abuse. He's lucky to be employed, having managed to drink and smart-talk his way out of a nice, cushy job covering (and partying with) the politicians down at the capitol.
Now, he's back on the night cops beat, right where he started when he came to work for the Richmond paper almost 30 years ago. The thing Willie's always had going for him, though, all the way back to his hardscrabble days as a mixed-race kid on Oregon Hill, where white was the primary color and fighting was everyone's favorite leisure pastime, was grit. His mother, the drug-addled Peggy, gave him that if nothing else. He never backed down then, and he shows no signs of changing.
When a co-ed at the local university where Willie's daughter is a perpetual student is murdered, her headless body found along the South Anna River, the hapless alleged killer is arrested within days.
Everyone but Willie seems to think: Case Closed. But Willie, against the orders and advice of his bosses at the paper, the police and just about everyone else, doesn't think the case is solved at all. He embarks on a one-man crusade to do what he's always done: get the story.
On the way, Willie runs afoul of David Junior Shiflett, a nightmare from his youth who's now a city cop, and awakens another dark force, one everyone thought disappeared a long time ago. And a score born in the parking lot of an Oregon Hill beer joint 40 years ago will finally be settled.
The truth is out there.
Willie Black's going to dig it out or die trying.
Raves for Oregon Hill:
Wil
lie Black is all business — newspaper business. In OREGON HILL (Permanent Press, $28), Howard Owen's world-weary crime reporter covers the night beat for a hard-pressed daily in Richmond, Va. When Willie's number comes up for downsizing, he wins a reprieve by chasing the terrific story he's working on here — about a headless corpse tossed in the South Anna River. Owen has recruited his sick, sad and creatively crazy characters from a rough neighborhood cut off from the rest of the city when the expressway was built. If anyone is watching out for the forgotten citizens of Oregon Hill, it's Willie, who grew up there and speaks the local language, a crisp and colorful urban idiom we can't wait to hear again. -- The New York Times
Owen knows his setting, his dialogue is spot-on and his grasp of the down-and-dirty work of the police and news reporters lends authenticity to the narrative. This is Southern literature as expected, with a touch of noir, and with a touch of Dennis LeHane's Mystic River. Willie Black deserves a sequel. --
Kirkus
The deft and surprising plot builds to a satisfying ending. Readers will hope that Willie will soon return in a sequel. --Publishers Weekly
Owen is a careful, precise writer, creating characters so real that we have to keep reminding themselves they're fiction, and stories so haunting that they stay with the reader long after the books are back on the shelf.--Booklist
Oregon Hill is a wondrous trip into the world of sarcastic newspaper reporters, bad cops, and murder most foul. Mr. Owen writes in a captivating voice, his acute observations granting authenticity to the bullet-speed pace of the story. Newspaperman Willie Black is masterfully created, ink and dark humor coursing through his hardboiled veins. It is hoped that this is the beginning of a series of books starring Willie and crew. Bring on the sequel!--New York Journal of Books
Reminiscent of Carl Hiaasen's Basket Case, Oregon Hill is as smart as it is thrilling, a true literary page-turner.--Small Press Reviews
Willie Black is back in "The Philadelphia Quarry" a sequel to be released in 2013
The Philadelphia Quarry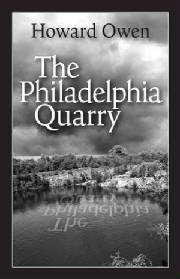 To be published July 2013
Black is back. Willie Black was last seen, in Oregon Hill, risking the final tattered remnants of his checkered career – and his life – to free a man almost everyone else believed was guilty of one of Richmond's most heinous murders.
Willie's still employed by the city's daily newspaper, still covering the night police beat with its DDGBs and dirt naps, still avoiding the hawk that periodically swoops down to pluck away a few more of his colleagues in a business that was foundering even before the Great Recession. He still drinks too much, smokes too much and disobeys too much. The only thing that keeps him employed: He's a damn fine reporter. Even his beleaguered bosses would concede that.
In The Philadelphia Quarry (which will be published in July of 2013), Willie puts himself on a collision course with a part of Richmond that a boy growing up in Oregon Hill could only experience through illicit midnight sorties at the city's most exclusive swimming hole. The Quarry was where Alicia Parker Simpson identified Richard Slade as her rapist, 28 years ago. Then, five days after DNA evidence freed Slade from the prison system in which he had spent his adult life, Alicia Simpson is shot to death at a stoplight en route to her gym.
Hardly anyone doubts that Richard Slade did it. Who could blame him? But Willie has his doubts. When the full weight of the city's old money falls on him, trying to quash the story, he only becomes more determined to get at the thing that always seems to get him in trouble – the truth. The fact that Richard Slade is his cousin, a link to his long-dead African-American father, only makes Willie more tenacious.
In the end, Willie will be drawn back to the Philadelphia Quarry, where it all started so long ago and where the truth lies, waiting to pounce.
The New York Times said Willie "speaks the local language, a crisp and colorful urban idiom we can't wait to hear again." Kirkus Reviews wrote, "Willie Black deserves a sequel." Publishers Weekly added, "Readers will hope that Willie will soon return."
By popular demand, Willie's back, and he's not backing down. 
Previous Works...
The Reckoning
December 2010
George James and Freeman Hawk, a Richmond patrician and a hard-luck North Carolina scholarship student, were unlikely friends. But as Vietnam-era college students, that's what they became. They were going to "quit the club" and go to Canada together. One did, and one didn't. Now, in the post-9/11 21st century, they are thrown back together, to make their peace at last. But who's chasing Freeman, and who is he, really? And what is going to become of George's son, Jake, a prime candidate for downward mobility?
"The writing is precise and economical; not a scene is wasted. Another fine novel from a consistently interesting writer." --Booklist
"Owen provides us with a story whose stakes are as high as they are within reach. As a result, the tension throughout the novel is palpable. As readers, we hope for the best for Jake even as his unguided trajectory hurdles him toward apparent disaster. Reminiscent of Tim O'Brien's "The Things They Carried" and "The Nuclear Age," "The Reckoning" is ultimately a coming of age tale for a generation raised on constant (if unfair) reminders of its failure to measure up to the overblown glories of the past." --New York Journal of Books
Littlejohn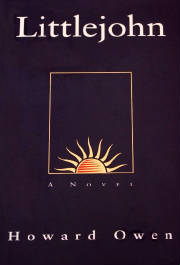 1992
Littlejohn McCain, humbled by age and haunted by tragedy, goes out on the hottest day of his 82nd year to put himself in God's hands and reflect on a life in which tragedy and redemption lie hidden beneath an exterior as quiet and humdrum as a Presbyterian hymn. Saddled with a learning disability, scarred by his role in his brother's death, deeply affected by the horrors of World War II, Littlejohn tells the reader everything, including the secret of the beautiful Sara.
"Littlejohn is a beautifully written novel, and Howard Owen has created a character as fully rounded in his quirks and imperfections, his quiet determination and bravery, as any in recent fiction." --Washington Post
"A warm and generous novel, a heartfelt celebration of the human spirit."
--The New York Times
Rock of Ages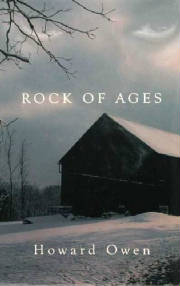 2006
Eleven years after her father's death, Georgia McCain is back in East Geddie, North Carolina, racked with Baby Boomer guilt and stumbling along between marriages. In this return to the terrain of the best-selling Littlejohn, Littlejohn McCain's daughter, here to sell the family farm, tries to come to grips with the place she couldn't wait to escape. She's brought along her drifting son, Justin, and his pregnant girlfriend. Making her life more interesting will be an overweight psychopath, taboo-flouting lust, a murder mystery and a tall, thin ghost wandering the perimeter of her once and now-again home.
"Rich in character and place, this murder mystery is also a haunting odyssey toward redemption and repatriation." --Publishers Weekly
"This sequel to Littlejohn is beautifully written and should appeal to readers of Southern fiction and to genre fans who favor character-driven crime stories." --Booklist
Fat Lightning
1994
Lot Chastain, who has dreams of eating the oily, flammable pine kindling known as fat lightning, is generally avoided by the people of Monacan. He is, in the local parlance, full of meanness. But when the image of Jesus appears in the moss-covered boards of his barn, thousands of tourists flock there. Soon, seduced by a flimflamming female gospel preacher, Lot begins to capitalize on Jesus on the Barn and heads down a dark path that will cause his smoldering core to burst into flames.
"A wise, warm, deeply satisfying story that resonates with imagery invoking the spiritual tradition of such Southern writers as Faulkner and Flannery O'Connor."
--Publishers Weekly
"Owen is a master storyteller and a writer to be watched."
--Library Journal
The Measured Man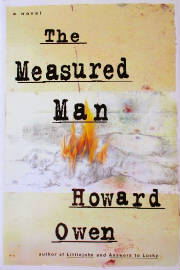 1997
Walker Fann is from the right family. He married the right girl. He lives on the right street on the right side of town. But something's gone wrong. Maybe he could have gone on forever enjoying the world that three generations of Fanns had built for him and his progeny. But the voice of Mattie Gray, the shy, pretty girl who shared his life and then left it, haunts him, pressing to win his soul. When a 13-year-old boy dredges up a ghost from Walker's past, he knows he must at last be measured. He will have to decide between the expedient thing and the right thing.
"A journey of the soul that warms and cheers." --Kirkus Reviews
"[A] nicely plotted novel inhabited by real people living in a real--and thus complex--world. Fann's struggle to come to grips with his own limitations is well and plausibly detailed."
--The New York Times
Answers to Lucky
1997
Tommy Sweatt, a North Carolina trucker driver with a fifth-grade education, has a teeth-grinding desire to amount to something. In his twin sons, he sees the vehicle for his family's deliverance, and he pushes them toward his concept of greatness. When Lucky is crippled by polio in 1954, he becomes a non-person to his father, who turns all his attention on the unscathed twin, Tom Ed. Forty years later, with Tom Ed running for governor and Lucky working as his unpaid driver, all that Tommy Sweatt sowed is about to be reaped.
"The spiritual progeny of Robert Penn Warren's Willie Stark is alive and charming the pants off everyone in the wonderful new novel "Answers to Lucky," a 1990s version of "All the King's Men."
--GQ
"A completely engaging story about the family ties that bind—tight—and the ego-pricking legacy of growing up poor."
--Kirkus Reviews
"A quietly powerful narrative, a poignant study of sibling rivalry and family dysfunction."
--Publishers Weekly
Harry and Ruth
2000
Ruth Crowder Flood has always told Harry Stein not to torture himself, not to let his life be ruined by what might have been. But he can't help it, and neither can she: They both know just how much can be lost by one bad decision. Now, late in the game, Harry is dying, and he wants to tie up a few loose ends. As the second defining hurricane of Ruth's life closes in, the time seems right.
"A winning story of human frailty and renewal."
--The New York Times
The Rail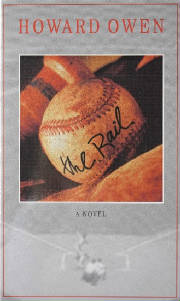 2002
Before he sabotaged his life, Neil Beauchamp was special, the glorious Virginia Rail who terrorized American League pitchers. He lived and flourished in the world of privilege, adored and accommodated. Then, it was gone. The only thing worse than spending your life earthbound, he would learn, is landing hard and knowing you'll never fly again. Now, long after the fall and just out of prison, the Rail has a chance at redemption, a chance to, for once, not fail those who love him.
"The pace is leisurely, the revelations apt and unexpected, and the coverage of professional baseball rings absolutely true."
--Publishers Weekly
"With this rich, multi-layered narrative focusing on a major league baseball star fallen from grace, Owen adds another volume to a remarkable body of work."
--Richmond Times-Dispatch
Turn Signal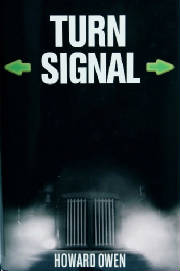 2004
No one thought Jack Stone of Speakeasy, Virginia, was the kind of man who would try to solve his problems with a .38. But here he is, on a train to New York, armed and dangerously determined that somebody is going to read his damn novel. Jack once had dreams of bigger things, but here he is, a long-distance trucker with a shaky home life and one last chance to be special. All that New York editor needs is a little persuasion.
"A poison-pen letter to the publishing industry from Owen, whose loser protagonist hits the big time once he stops playing by the rules."
--Kirkus Reviews
Richmond Noir
2010
"Richmond Noir" is a collection of all-new stories by a variety of accomplished authors. Each story is set in Richmond, Virginia. In Howard Owen's The Thirteenth Floor, a political reporter reassigned to the night police beat investigates a murder-by-gunshot in his own apartment building.
About Owen's story, "...a well-done contemporary fair play whodunit..." -- Publishers Weekly
Howard Owen Biography...
Award-winning writer Howard Owen was born in Fayetteville, North Carolina. He graduated from the University of North Carolina at Chapel Hill with a journalism degree and earned a master's degree in English from Virginia Commonwealth University.
Howard's first novel, "Littlejohn," was published by The Permanent Press in 1992. Random House bought and reissued it as a Villard hardcover in 1993 and a Vintage Contemporary paperback in 1994. It was nominated for the Abbey Award (American Booksellers) and Discovery (Barnes & Noble) award for best new fiction. It has sold, in all, more than 50,000 copies. It has been printed in Japanese, French and Korean; it has been a Doubleday Book Club selection; audio and large-print editions have been issued, and movie option rights have been sold.
Other kudos for Howard Owen and his books:
· Starred reviews from Publishers' Weekly.
· Included in "The Best Novels of the Nineties: A Reader's Guide."
· Included in the LA Times Book Reviews' "Recommended Titles" for 1997.
· Several of his novels have been Booksense selections.
· Owen won the 2002 Theresa Pollack Award for Words.
· His short story, "The Thirteenth Floor," was included in "Richmond Noir" in 2010.
Howard lives in Fredericksburg, Virginia with his wife Karen who is also an award-winning writer and editor.